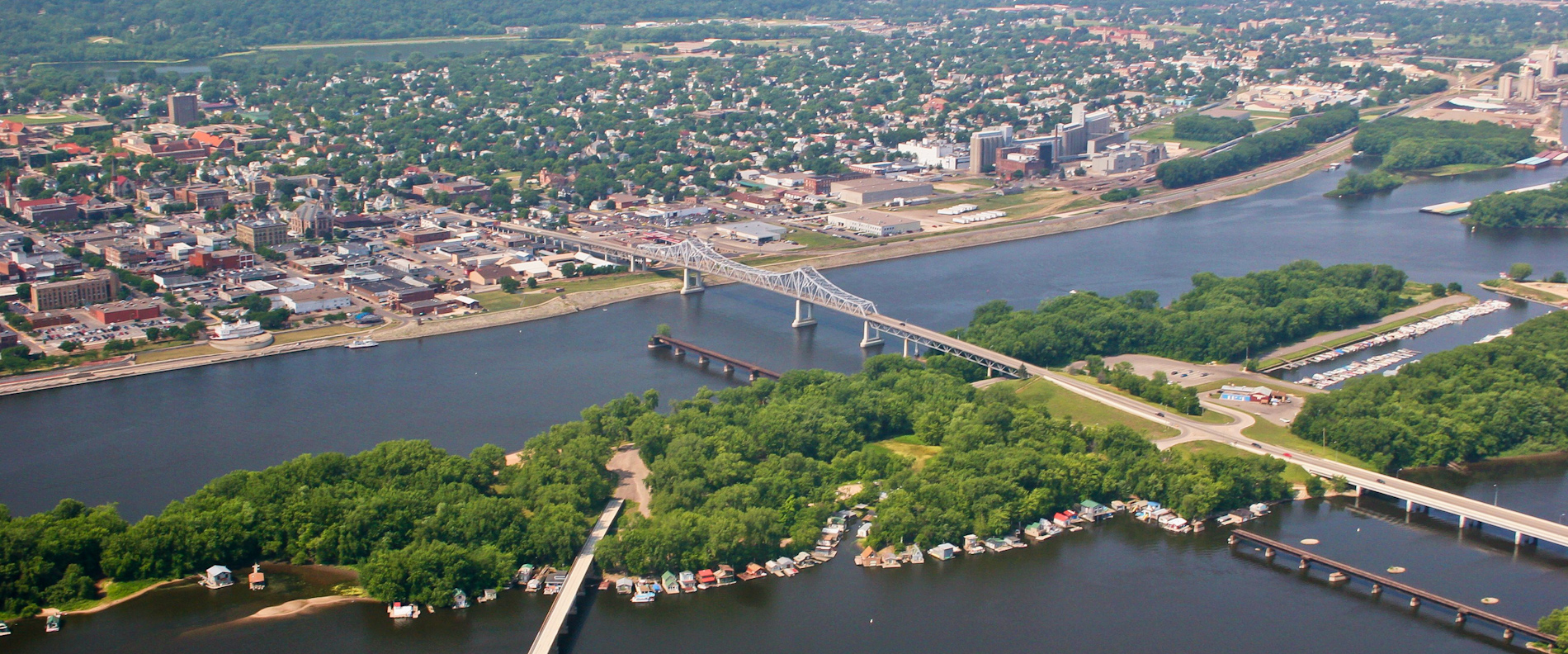 Winona is a vibrant college town of about 28,000 in southeastern Minnesota.
It's one of the most beautiful places in the country, nestled between wooded bluffs and the stunning mighty Mississippi River.
The city boasts a deceptive wealth of culture, arts, history, outdoor recreation and festivals. Winona is 2 hours from the Twin Cities, 45 minutes from Rochester, 25 minutes from La Crosse, 2.5 hours from Madison, 3.5 hours from Milwaukee and 4.5 hours from Chicago. Check out the links below for more information.
Weather
Winona has a continental climate and enjoys four distinct seasons. Fall is generally pleasant, light jacket weather. Winter is snowy, with temperatures ranging from 30 F down to below 0 F. Spring brings melting snow and new life to the woods and water. Summer is warm, sometimes hot, but inviting for outdoor activities.
Summer
June – August
Minnesotans enjoy: boating on lakes, swimming, hiking, outdoor sports
Average temp: 24C/75F
Clothing: Shorts, t-shirts, sandals, hiking shoes, swimsuit
Fall
September – October
Minnesotans enjoy: harvest, picking apples, seeing trees change color, hunting
Average temp: 13C/55F
Clothing: Warm jacket, boots, scarf
Winter
November – March
Minnesotans enjoy: ice fishing, skiing, skating, sledding, hockey, drinking hot chocolate
Average temp: -5C/23F
Clothing: Heavy coat, hat, scarf, mittens, snow boots, long underwear, thick socks, sweaters
Spring
April – May
Minnesotans enjoy: seeing snow melt and trees/flowers bloom, planting gardens
Average temp: 13C/55F
Clothing: Rain jacket/umbrella, rain boots
Food
American
Black Horse Bar & Grill
Bub's Brewing Co
Family Restaurant
Ground Round
River City Grill
Signature's
The Boat House
Wellington's Pub & Grill
2 Brothers Sports Bar + Grill
Chinese & Thai
Golden China
Great Hunan
Ocean Sushi
Winona Garden Chinese and Thai
Coffee
Acoustic Cafe
Blooming Grounds Coffee House
Blue Heron Coffeehouse
Mugby Junction
Starbucks
Fast Food
A&W
Culver's
Dairy Queen
Erbert & Gerbert's
KFC (Kentucky Fried Chicken)
Lake View Drive Inn
McDonald's
Pizza Hut
Taco Bell
Taco John's
Subway
Mexican
El Patron
Mango's
Rubio's
Taco Bell
Taco John's
Pizza
Domino's
Godfather's Pizza
Pizza Hut
Rocco's Pizza
Sammy's Pizza
Sliced 
ZaZa's Pub & Pizzeria
Sandwiches
Beno's Cheese & Deli
Erbert's & Gerbert's
Subway
Hotels
Americinn 
303 Pelzer St, Winona, MN 55987
507-474-7700
wyndhamhotels.com
1.0 miles from Saint Mary's of Minnesota
Days Inn Winona
420 Cottonwood Dr, Winona, MN 55987
507-454-6930
daysinn.com
.5 miles from Saint Mary's University of Minnesota
Fairfield Inn & Suites 
925 Bruski Dr, Winona, MN 55987
507-474-2500
marriott.com
5.2 miles from Saint Mary's University of Minnesota
The Plaza Hotel & Suites
1025 U.S. 61, Winona, MN 55987
888-292-0303
plazawinona.com
5.2 miles from Saint Mary's University of Minnesota
Riverport Inn and Express Suites
900 Bruski Dr, Winona, MN 55987
507-452-0606
riverportinn.com
5.2 miles from Saint Mary's University of Minnesota
Super 8
1025 Sugar Loaf Rd, Winona, MN 55987
507-454-6066
super8.com
5.2 miles from Saint Mary's University of Minnesota
Holiday Inn Express & Suites
507-474-1700
ihg.com
1128 Homer Rd, Winona, MN 55987
5.2 miles from Saint Mary's University of Minnesota
Shopping
Supermarkets
Walmart
Target
Groceries
Aldi
Hyvee
Midtown Foods
Walmart
Clothing
Fleet Farm (winter clothing)
Maurice's
Target
Walmart
Gifts
Heart's Desire
Magnolias
Pendleton's Boutique
Pieces of the Past
Pretty Things on Third
Thrift Shops
Grace Place
Inside the Vault
Restore
Restored Blessings
Things to Do
Entertainment
Page Theatre, Saint Mary's
Westgate Bowl
Winona 7 Cinema
Museums
Minnesota Marine Art Museum
Pickwick Mill Inc
Polish Cultural Institute
Watkins Museum & Store
Winona County Historical Society
Outdoors
LaCanne Beach in Goodview
Hike Sugarloaf
Lake Winona – fishing, biking, walking, disc golf, skating, snowshoeing, canoeing, kayaking, and more!
Levee Park
Saint Mary's bluffs – hiking, cross-country skiing, ropes course, volleyball, disc golf
Westfield Golf Course
Near Winona
Castlerock Museum (Alma, WI)
National Eagle Center (Wabasha)
Skiing (Coffee Mill or Mount La Crosse)
Saint Mary's University of Minnesota