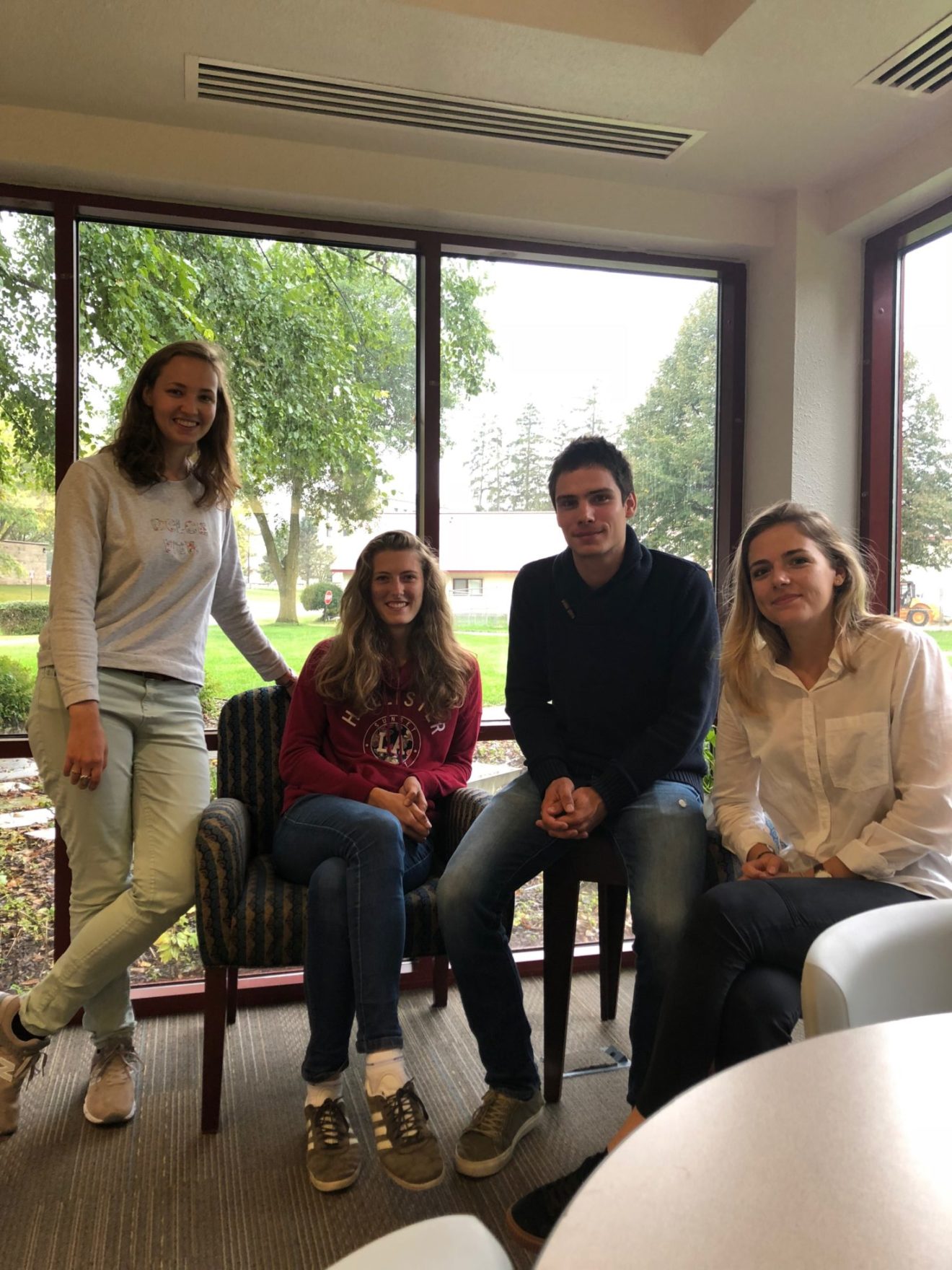 How many of us can locate Beauvais on a map? If you are unable to do so, please make time to improve your geographical knowledge because Elodie, Louise, Lucie and Jérôme are four of our French students spending a semester here at Saint Mary's University in Winona. They hail from different cities in France: Normandy, Chartres, Nancy and Paris respectively. Their paths crossed at the Lasallian College, UniLaSalle campus de Beauvais, in Northern France. They are undertaking a five-year degree program leading to engineering degrees in the fields of agriculture and agro-industry. A study abroad semester is a degree requirement at their university. They are currently studying Environmental Biology at SMU.
Our French undergrads are in their early twenties. Although they miss their parents and siblings back home, they are enjoying every minute of their stay with us. With regard to hobbies, Louise loves tennis and skiing while Lucie enjoys shopping, cooking, and time with friends. Elodie is into horse-riding, while camping and hiking are a thrill for Jérôme.
When asked about aspects of culture they have experienced while in the U.S., their responses included the following:
In the U.S., most things are bigger. Think about vehicles, especially in this neck of the woods! Food portions are also much more substantial. In addition, the concept of tipping the server when at a restaurant is a new experience.
Paying tax on certain purchases came as a surprise.
Teachers are extremely friendly – Elodie, Louise, Lucie and Jérôme are not used to addressing their professors on a first name basis. This does not happen in France. A very formal interaction between student and teacher is the norm. Furthermore, students are not allowed to wear hats in class, unlike American students, who don the baseball cap frequently.
When asked, "What is the most important thing you would like me to know about you?" Elodie replied she is very much into sports. Another fun fact about her is that she loves to play jokes on her friends. She enjoys meeting new people and discovering new cultures and places. The latter also holds true for Louise, Jérôme and Lucie. Their five year goals include: working in Germany (Lucie), pursuing studies or possibly finding a job in the financial world (Louise), work, sports and happiness (Elodie) and travelling and working abroad (Jérôme).
Our French students would like to communicate a message to their SMU peers. Here is what they would like to share:
"Don't be afraid to come and meet us. We would be really happy to meet you and talk with you about different things."
"Come visit our campus in France. We will show you the best part of our country. We have a beautiful campus and students are very welcoming."
Elodie, Louise, Lucie and Jérôme will be with us until December. Please take the opportunity to meet with them.You'll miss out if you don't!