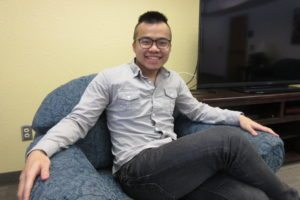 Arriving at Saint Mary's University in August 2017, Kun-Tung Chou, also known as Donny, spent the academic year studying the English language within the DeLaSalle Language Institute and immersing himself in the customs and cultures of the United States. Wanting to share his experience, Kun-Tung wrote the following essay.
My Study Abroad Experience in the U.S.A.
Due to career development, I need to improve my English ability. Consequently, this is the first year and my first time to study abroad. Everything is shocking to me, and the weather is very different from my country. Snow is amazing, and I like it.
Because of stereotypes and news, everyone thinks the United States is a dangerous country. Crimes, drugs or racism may affect people. However, I do not encounter these problems in my life. I like Winona and Saint Mary's University of Minnesota because everyone I know is kind and willing to talk to me. This is very important to me to improve my speaking ability. They are patient and intelligent because they always know what I am saying even if I don't speak the complete sentence or use strange tones. I am so glad that I chose Saint Mary's; it makes me learn in the correct way. If you ask me what is difficult to adapt to, I will tell you the eating habits are very different. I cannot eat pizza, ice cream or hamburger every day. Fortunately, the chef is considerate; he prepares Asian food for foreign students. Not only food, but also the campus holds a special party to celebrate Asian festivals.
Thoughts about education are very different between Asian countries and the United States. For example, in my country, we spend lots of time on our majors; however, we seldom care about the other things. Conversely, western education notices sports, social ability, personality development…etc. Everything is accepted as long as it is legal. You don't need to care about if you are different. Encouragement replaces scolding; everything in the United States is free and open minded. Convenient and numerous resources not only help me find extra information but also I can learn another skill by myself. Having conversation partners or joining different activities can exchange our perspectives and cultures; it can help me improve my language and join this big group more quickly.
I come from Taiwan. I never regret studying in Saint Mary's University as an ESL student because professors Becky, Molly, and Lorraine are professional and earnest. They help me improve my second language effectively and solve my life problems. I felt homesick in the past but because of Vivien's support, I feel SMU is my second home. I appreciate Vivien who is a staff member in Saint Mary's University.