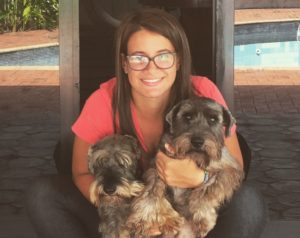 You may recognize Sara Páez's face if you've ever ordered a sandwich at the cafeteria or attended activities on campus. If you don't, you must not get out much because Sara seems to know everyone. Her outgoing, caring personality has enabled her to make the most of her semester here at DLI, both academically and socially. We thank her brother, José, a DLI and SMU alum himself, for convincing Sara to follow in his footsteps and join us. Her desire to improve her English skills drew her away from her home in Valencia, Venezuela, after she finished her coursework in business administration at Universidad José Antonio Páez in January.
She describes Venezuela as a country with "beautiful people, culture, and places that is now hard to see and enjoy" because of a corrupt government, which is a "bad form of communism with a dictator instead of a president." Though Venezuelan President Nicolas Maduro announced a wage hike last month, the minimum wage will increase only to $6.13 per month, according to CNNMoney. Therefore, it's no surprise that most of the middle-class professionals, including all of Sara's friends, have fled Venezuela leaving behind the lower and upper classes, the latter being those connected with the government. Petroleum production has been stopped and most companies have shut down. Because the government determines prices, daily necessities are too expensive for most people to afford. Groceries operate with a lottery system based on citizens' national ID numbers, where certain numbers determine the day on which a person may shop, yet only the first 100 customers are allowed into a store. Sara described her father getting up at 3:00 a.m. to line up for a ticket to be one of the first 100 at many stores because the ticket alone doesn't guarantee that there will be food on the shelves. He may have to visit several stores to purchase what he needs. As a result, many people are starving and resort to begging on the streets or crime. Theft, kidnapping, and murder have become major problems in Venezuela as poverty drives people to do whatever they can to survive. Sadly, the capital city of Caracas is the second most dangerous city in the world, with Sara's hometown being twenty-seventh, according to a Daily Mail survey published last month. The health care system is suffering as well; there are no beds available in public hospitals, medicine must be bought in Colombia, and patients have to bring their own anesthetics with them. Transportation is also an issue without petroleum and repair companies to sell replacement parts for individual and public vehicles.
Despite the political situation, Sara has a positive outlook and hopes that things will change in the future. She will return to her parents and pets, the beach, and the warmth of her country in June and then look for a job in another country. Wherever she may end up, she will be sure to share the warmth of her country, culture, and people.