Vivien Skranka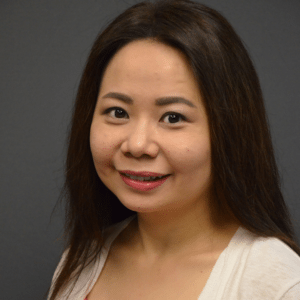 My name is Vivien Skranka. I am originally from Taiwan. New York Times calls it an island of green in Asia. CNN calls it an island of impossible beauty. Europeans once called it Formosa.
I graduated from Saint Mary's with a MA in International Business many years ago. I recently started my career at Saint Mary's in May as an International Admission Counselor at the Admission Office and Coordinator of International Student Services at the International Center.
My job is very unique because I have the opportunity to work with prospective international students by helping them to apply to Saint Mary's. I also work with enrolled students to assist them with adapting to American culture, adjusting to student life, and as a Designated School Official (DSO) advising them with maintaining their immigration status.
I was very fortunate to be able to study in Taiwan, Australia and the U.S. The experiences I gained were not only academic, but I also learned to appreciate other cultures and traditions, embrace people from different backgrounds and become familiar with different international education systems. Studying in different countries started my career in the international education field, and I have developed experiences assisting with international education fairs, hosting international culture events, and advising international students.
I am excited to be able to return to Saint Mary's to contribute to this community by working with two departments with a strong desire to help students achieve their personal and academic goals.
Saint Augustine of Hippo once said, "The world is a book and those who do not travel read only one page." If you have not yet had many opportunities to travel overseas, then let our international students bring the world to you.
Here are two links:
CNN Travel
The New York Times
Vivien