International Center (IC) events during Multicultural Week, February 8th – 12th.
Around the World in 10 Tables
As a part of the Multicultural Week, international students from China, Nicaragua, Poland, Saudi Arabia, South Korea, Taiwan, and Vietnam had the opportunity to share their history, culture, food, and talents with SMU's community. This event was a great experience for administrators, faculty, and domestic students to learn about different cultures without traveling abroad.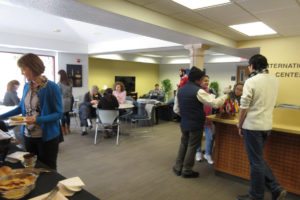 International Center Open House
As a part of the Multicultural Week, the International Center had an open house with the purpose of welcoming and introducing the staff of the office of Study Abroad as the new member under the umbrella of the IC. International students welcomed faculty, administrators, and domestic students at the door offering them a tour of the IC, delicious appetizers, and drinks.  In addition, attendees also had the opportunity to learn more about the ESL/ELB programs, Study Abroad, and International Student Services.  The IC thanks everyone for attending this event.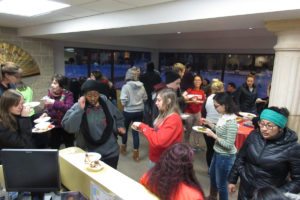 Cultural Food Fair
The final event of Multicultural week was the Cultural Food Fair which brought over 100 people to the Heights. This event was organized by the international club and its club advisors and sponsored by the office of Student Activities and the IC. International students from China, South Korea, Saudi Arabia, and Vietnam cooked their traditional dishes and served them to the many waiting guests. In addition, staff at the IC also cooked a traditional Chinese dish and a Mexican dessert. Attendees also enjoyed special dishes, appetizers, and drinks prepared by Chartwells. 
A BIG THANK YOU goes out to all those that participated in the weeks events!